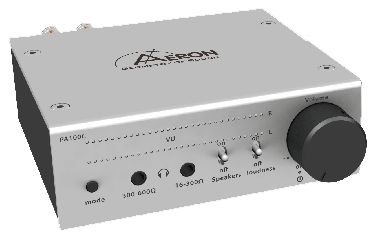 L'amplificatore P-101 in classe D è in grado di erogare una potenza di 30 W per canale in uscita su diffusori a 8Ω. Dispone di controllo volume e di due uscite cuffia separate per cuffie a bassa e alta impedenza.
L'amplificatore di Classe D è il più efficiente amplificatore nel mercato tra le classi di amplificazione A, B e AB.
Più efficienza significa che per un dato livello di segnale inviato al sistema di amplificazione più potenza di uscita viene generata per diventare segnale audio invece che più calore generato e dissipato nel sistema.
Quindi tu sei più "VERDE" mentre stai ascoltando la tua musica.
The P-101 equipment with a Class D amplifier to deliver at least 50W output power per channel on the main speakers.
The Class D amplifier is the most efficient amplifier among the Class A, B and AB amplifiers in the market.
More efficiency means for a given power level applying to the amplification system more output power is generated to become audio signal rather than more heat is generated and dissipate in the system.
Therefore you are more "GREEN" while you are listening to the music.
Caratteristiche e specifiche
• Ingresso: linea da 3,5 mm
• Uscite: Diffusori stereo, Pre out, Uscita cuffia x 2
• 30 x 2 LED segnale livello (4 modalità)
• Selettore uscita per diffusori o cuffia
• Loudness EQ
• Potenza massima in uscita per diffusori:
- 30W + 30W (8Ω);
- 50W + 50W (4Ω);
• Potenza massima in uscita per cuffia:
- 270mW / 16Ω,
-450mW / 32Ω a 1kHz
• Impedenza accettata della cuffia: 16 ÷ 600Ω
• Risposta in frequenza: 20Hz÷20kHz (± 0,5 dB)
• Funzione de-pop integrata
• Alimentazione: 120 W (24 V / 5 A)
• Mobile metallico di elevata fattura
• Dimensioni: 115x136x39mm
• Peso: 0,57 kg
Features & Specification
• Input: 3.5mm line in
• Stereo Speaker out, Preout,
Headphone out x 2
• 30 x 2 Level meter LED (4 mode)
• Switch Select Headphone or Class D
Output
• Hardware Loudness EQ
• Maximum output power : Class D
- 50W+50W(4ohm) ;
- 30W+30W(8ohm) ;
Headphone:
- 270mW / 16ohm ,
- 450mW / 32ohm at 1kHz
• Headphone Drive Ability: 16 - 600ohm
• Frequency response:20Hz-20kHz(±0.5dB)
• Integrated de-pop function
• Power Supply: 120W (24V/5A)
• Very fine finishing metallic case
P-101
| | | | | | |
| --- | --- | --- | --- | --- | --- |
| | | dove acquistare | | | |
| | | where to buy | | | |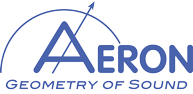 Amplificatore finale stereo classe d
class d stereo power amplifier